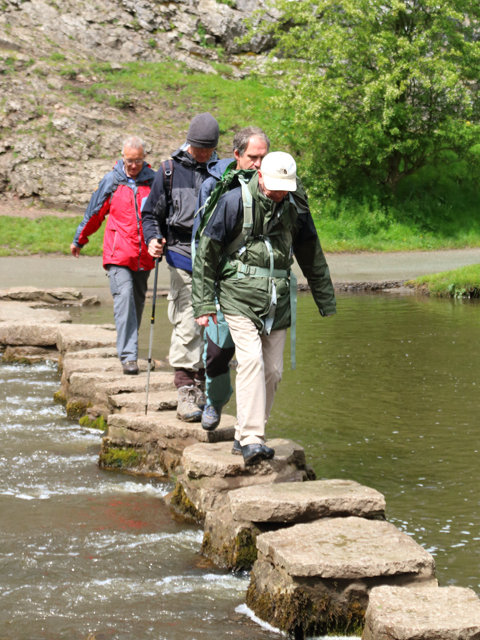 We hope you will enjoy the three parts of the pilgrimage: the journey, the destination and the return home.
Returning home to your daily lives you will hopefully have been strengthened and changed to live life better. Some pilgrims may even have a life-changing spiritual experience, finding or renewing their Christian faith.
If you would like to share your pilgrimage experience and photographs on this website, please email us at:
mypilgrimage@peakpilgrimage.org.uk
Some of the recent comments people have shared on Tripadvisor:
---
Had a wonderful 4 days last week walking the Peak Pilgrimage in Derbyshire. It connects all the best walks in the Peak District! Loved the book and descriptions from Bob Jackson and we were pleased to view the tv screening in Eyam Church featuring the Rev Mike Gilbert, potholer extraordinaire. We felt we'd come to know Bob and Mike as friends on the walk.
We had friends join us for a couple of days which greatly enhanced our days. Would highly recommend it!!
---
Excellent walk, spiritually uplifting. However walking boots are needed as some of the paths can be very muddy (the path into Monyash from the Tissington Trail has been churned up by trail bikes even though there are signs - no motorised vehicles). l suggest walkers get to start by getting the bus from Ashbourne to Ilam. The service is provided by Ashbourne Community Transport and runs 10 am, 12 noon and 2 pm on Tuesdays and Thursdays from Ashbourne
---
My youngest son and I did the whole of this walk spread over 4 days, and some other members of the family came for either one da or part of a day.
This is a well planned and organised walk and the book is so good in its detail as to the actual walk itself, where to go, and also the description of the places we visited.
Met many interesting people along the route who wanted to know more about the 'Peak Pilgrimage', and was greatly blessed by meeting the gentlemen who was locking up at Baslow on Wednesday 5th.
This was a great 4 days for me - celebrating my 80th birthday and would recommend to anyone who wants to enjoy peace and beauty and s sense of God's Presence,

We visited 12 churches, the only one we could not get into was at Ilam which had not been opened - will have to visit again.

Many thanks
---